Publisher
Mofid University
---
Editor-in-Chief
Prof. Seyed Mohammad Ghari Seyed Fatemi
---
Deputy Editor
Alireza Maleki
---
Print ISSN
2423-6489
---
Online ISSN
2538-6360
Human rights are such an important issue today that they are called as the foundation of human life and coexistence. We respect human dignity based on the rules and regulations of human rights. All human beings have dignity and rights in the sense that they are human beings. Undoubtedly, all human beings want to live in a developed world with security, spirituality, rights and morality; A world free from violence, discrimination and inequality, free from oppression and tyranny and full of justice, peace, freedom and tolerance.

Human rights are responsible to provide the ground for developing such a world; Therefore, as the first scientific and fully specialized journal in Iran, the "International Semi-annual journal of Human Rights" started its operation in 2006 and set to publish selected scientific works in order to explain the theoretical foundations of human rights and accomplish the goals of the Center for Human Rights Studies and to expand principled research and theoretical foundations of human rights. In more than ten years of activity, this semi- annual journal has been introduced as a research resource in the related areas and continued its activities.

The semi-annual Journal of Human Rights invites all professors, and thinkers interested in topics on human rights research to contribute to the continuation of this path by submitting their scientific works and articles. This semi-annual journal has been published since 2006 by MU Center for Human Rights Studies in Iran. It is an international journal with anonymous (closed) refereeing system that is published for free to promote human rights concepts in Iran and reflects the existing views, also for easy access. It publishes articles free of cost. All costs related to the compilation, preparation and publication of articles are covered by MU Center for Human Rights Studies.

The journal is published in both print and digital editions and once every two seasons, and articles are accepted in Persian and English and they are reviewed. The minimum time to review articles will be eight weeks and all Persian articles must include abstracts and references in English.
---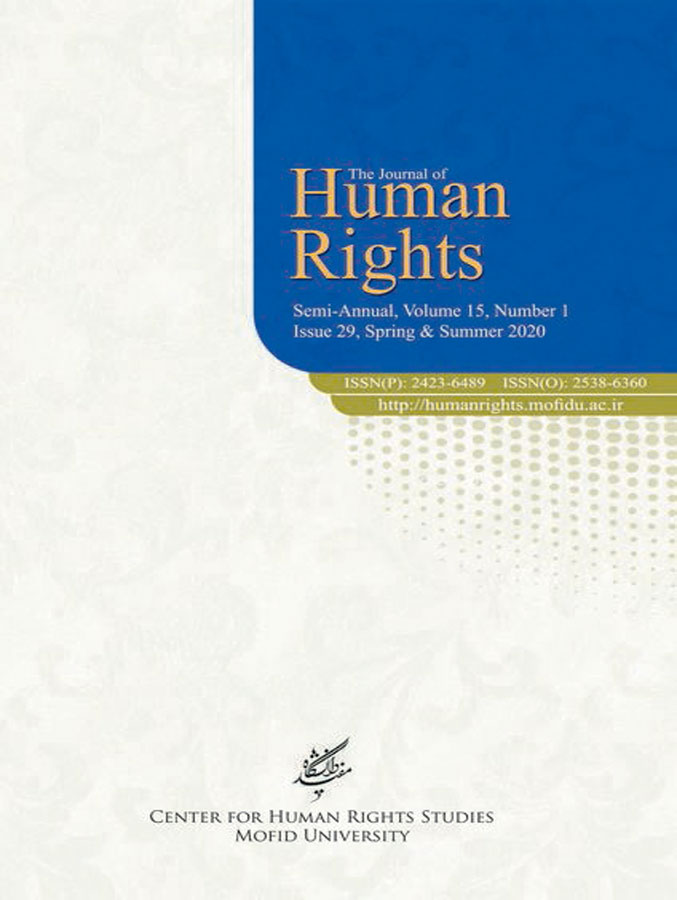 Volume 15
Serial Number 29 , Issue 1
Winter and Spring 2020
---

Opacity of "Human Rights"
Seyed Masoud Mousavi Karimi
Human rights are of the basis for the local and international laws and bestow legitimacy on states. Furthermore, a vast number of theories in the field of humanities are evaluated based on their approaches to human rights. Despite widespread assumption that "human rights" is a clear and commonly accepted concept, in this article I show the opacity of human rights both conceptually and extensionally. Also, I explain that, as long as "human rights" is not clarified, the whole discussions on human rights in the fields of law, economics, politics and so on will be in vain, and the clarification of "human rights" is possible only under philosophical examination of this notion. Human rights are of the basis for the local and international laws and bestow legitimacy on states. Furthermore, a vast number of theories in the field of humanities are evaluated based on their approaches to human rights. Despite widespread assumption that "human rights" is a clear and commonly accepted concept, in this article I show the opacity of human rights both conceptually and extensionally.

The possibility of Moral Rights
Abolqasem Fanaei; Seyed Mohammad Hosseini; Someyeh Hasankhani Taskoh
The aim of this article is to show that (1) "right" can have a moral meaning; and (2) moral duties are divided into those that correspond to moral rights and those that do not. A moral right is a kind of right that is rooted in moral considerations, and states or expresses such considerations. There are at least two ways to argue for these claims: the first is to examine the justificatory foundations of rights, showing that the justification that is available for some rights is a moral justification (section 2), and the second is to examine the role, status and function of rights in morality and moral discourse (section 3).

Human Rights Considerations in Criminal Deal with the Phenomenon of Piracy
seyyed sajjad kazemi
Over the last decade, pirates have resumed their activity in the international seas and waterways after years of enthusiasm. This has led to a surprise to the international community and a series of generally violent and violent measures to confront these perpetrators. However, piracy perpetrators, like those charged with other international crimes, enjoyed various privileges and privileges, with countries showing little interest in assigning these rights to these defendants. in addition, respect for human rights in the criminal proceedings against piracy committed with challenges such as respecting the reasonable deadline for arrest and detention of defendants on board the ship, the issuing authority has arrested detainees and prosecuted piracy suspects in a third country who deserve attention and Review. In the present research, the special status of prosecution, arrest and trial of piracy offenders and applicable human rights are discussed.

Human Rights, Religion, and Decent Hierarchical Societies: A Rawlsian Analysis
Hussein Houshmand
Global society is characterized by its philosophical, ethical and religious disagreements. What are the implications of the doctrinal conflict for the understanding of a conception of human rights? In this paper, I briefly explain John Rawls' conception of human rights, which is distinct from and narrower than his conception of justice (i.e., justice as fairness). Rawls conceives human rights as minimal, but necessary requirements of justice – although not sufficient from a liberal point of view –that can be satisfied by various political systems. Rawls argues that human rights are common to all peoples, since they are compatible with all reasonable political morality, including those of both "liberal" and "decent hierarchical" peoples. The central idea of Rawls' account is that, a conception of human rights suitable for a pluralistic world must be independent from controversial philosophical, ethical or religious doctrines. Such a conception must serve as the object of an overlapping consensus among different ethical and religious traditions; each may offer the different lines of argument.

Expanded Capacity of Imamyieh Human Rights to Support Wives' Sexual Rights
Reza Zahravi; Mahsa Alizade
Criminalization of some sexual relationships constitutes a part of criminal rights, and even after French Great Revolution and expansion of individual rights, though some countries have tried to limit sexual crimes, by the way, description of rape crime principle has been established in sexual relationships of many countries including England and most states of America; the issue which is evident in law and Imamiyeh jurisprudence and its historical roots are several times deeper than West, but has been ignored in Iran laws; and nowadays, sexual crime is just approved when there is no matrimonial relations or such. Although rights' abuse is definitely different from adultery, but considering principle 167 of constitutional rights and referring to principle 4 of constitutional rights as the source of Iran law, possibility of criminalizing this behavior in the frame of discretionary crime is considerable; in the case that spiritual or physical persecution, or any other mental and legal barriers is realized, wife will have the right to deny from obedience and this may provide conditions to criminalize "imposing sexual relations by husband against wife".

Voices from the Margins: Discursive Nonviolence
Rachel Spory
Violence generally monopolizes the discourse of social change. An alternative voice is that of marginalized people who confront nonviolently the danger of forfeited basic rights and need to secure rights. This essay applies sociological theories on the causes of violence as well as peacebuilding/nonviolence literature to three case studies: 1) Las Madres de la Plaza de Mayo through a Christian Liberation Theology perspective; 2) the Islamic revolution in Iran; and 3) the Gandhian/Buddist Sarvodaya Movement in Sri Lanka. These case studies illustrate the role that religion plays in nonviolent efforts to attain human rights recognition and suggest that marginalized voices may be heard as peacebuilding literature and nonviolent rights recognition helps us transcend the human rights dichotomy. This paper's main purpose is to break violence's monopoly on the discourse of social change and to allow room for nonviolent movements to contribute to the dialogue.

Religious Law, Family Law and Women's Human Rights (Jewish Women, Jewish Identity and Human Rights Today: A Challenge and An Opportunity)
Sharon Shenhav
Family law, particularly in the area of marriage and divorce, has historically been strongly influenced by religious laws. In secular countries, which have a constitutionally mandated separation of religion and state, such as the US, there is nonetheless a strong impact of a variety of religious traditions and religious laws on the institution of marriage. A review of relevant legal jurisdictions on issues related to marriage and divorce reveals that civil court judges are often called upon to refer to religious law as it affects the rights and obligations of the parties. Members of various religious communities who wish to exit their marriages often turn to their clergy for information and counseling before they seek legal representation. In countries which have varying degrees of religious law as part of their legal systems, it is the area of marriage and divorce, which receives the most input from traditional or religious sources today. This is due to the fact that on a practical, everyday basis, marriage and divorce is the area where religious law has the most impact. Thus in countries like Iran, Islamic Law determines the rights and obligations of the parties to a marriage as well as at the time of dissolution of the marriage.

Human Dignity and Personal Identity, Why Pragmatic Approaches Fail
Christian Kanzian
Throughout the European Union the concept Human Dignity plays an important role in theoretical debates on human rights. One main reason for this is the UN-Declaration of Human Rights, in which Human Dignity is mentioned explicitly. Another reason is that the reference to Human Dignity is essential to those passages of the Constitution of the Federal Republic of Germany in which Human Rights are introduced. The discussion of Human Dignity is interdisciplinary, but focuses especially in social and applied ethics: We have to treat humans in such a way, because they have a peculiar dignity. All humans have special rights, because they are objects of human dignity . But what does Human Dignity really mean and how can it be explained theoretically?

Recent developments in the protection of religious freedom in Germany and its impact on religious identity
Stephanie Fehr
The paper argues that the approach taken to freedom of religion under future German law falls short of basic legal principles and it does not signal compliance with international obligations. Moreover, it entails an increased difficulty for non-Christian citizens to maintain their religious identity. Religious freedom is protected under Art. 4 of the German constitution: "(1) The freedom of faith, conscience and the freedom of religious denomination and of philosophy of life are inviolable. (2) The undisturbed practice of religion is guaranteed." A further relevant provision is Art. 3 of the constitution, which prohibits discrimination, inter alia on grounds of religion. The paper will explain and analyse the mechanisms in which human rights can be restricted in the FRG.

Right to Change One's Religion: Human Rights Norms In Islamic Perspective
Eghbal Ansari
Islam claims that it is not a new religion founded by Mohammad (PBUH), but one which reaffirms the core tenets of belief in Oneness of God and individual human accountability in the Hereafter, that all true Messengers of Allah preached among all peoples of the world at all times, though the Shariah differed according to the space-time specific requirements. Mohammad, however, affirmed that he was the last Prophet and that Islam is the religion ordained by Allah for all mankind for all times to come, thus abrogating all previous religious creeds. In spite of such a claim of exclusive truth, the revelations received by Mohammad directed and assured him again and again that there could not be any compulsion in religion, as the Quran had made the right way distinct from the error, and it was for the individual to choose his creed in accordance with his reason and conscience.

Democracy and Human Rights as Challenges to "Turkish" National Identity
Berdal Aral
This presentation centres on the problematic of "identity" and the extent to which the republican Turkey has managed to gather the people around the state-imposed identity of "Turkishness". This theme is explicated by reference to the two main challenges to the privileged role that Turkishness was accorded since the foundation of the republic in 1923: the upsurge of Islamic identity, and the manifestation of Kurdish identity. This paper argues that human rights violations in Turkey are not simply to be blamed on bad laws, ruthless governments and bad bureaucracy, but are the outpourings of a deeper malaise reflecting the politics of identity therein. It is argued that the more the individual and collective identities are "liberated" from the much-politicised homogenizing identity that idolizes the "nation" and the "state", the more tensions and human right violations will subside through accommodating practices.